Table Runner
with Ellie Newell & Malinda Seames, MSAD#44 Adult & Continuing Ed

Nov 13, 2019 at 5:30 pm

, runs for 2 weeks

57 miles away
...r entertainment center.  You choose your fabrics to develop your own theme- country, holiday,
primitive
, etc.  The choices are endless. Make it for yourself, or finish your project for a great holid...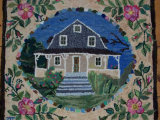 Folk Art Rug Hooking
with Janet Conner, BS, Old Orchard Beach/Saco Adult and Community Education

Nov 16, 2019 at 9 am

, runs for 1 week

66 miles away
...ooking from start to finish with every step demonstrated. Discuss the history and tradition of
primitive
rug hooking, learn about finding and preparing materials and research sources for design inspir...
Full Course